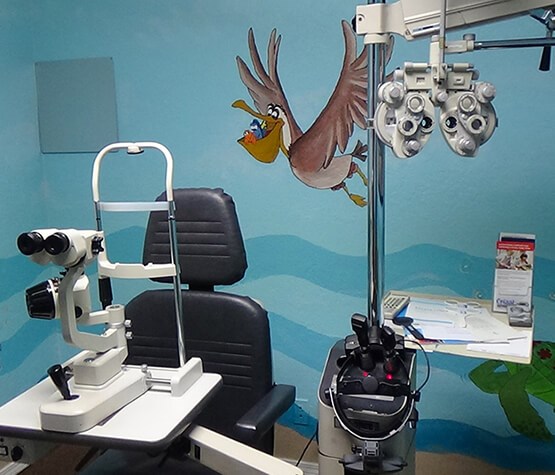 Our Owasso, OK Vision Center
Our Owasso, OK vision practice houses some of the latest and most advanced technology, which allows Dr. Rigney and his team to precisely diagnose numerous eye conditions. From glaucoma and macular degeneration, to common eye infections and eye allergies, Dr. Rigney applies his years of experience to help his patients overcome their eye problems. In our family vision center, Dr. Rigney is able to use imaging technology, including an OCT Scan machine, Optomap, and OPD HD to deliver the most accurate diagnosis and results to his patients.
In addition, our facility also houses an on-site optical lab with state-of-the-art equipment to produce custom-made lenses based on each patient's prescriptions. We offer over 1,300 frame options and thousands of contact lenses. Thanks to our advanced equipment, patients have the option to receive their new prescription eyewear in just 1 hour. We invite our Owasso patients to learn more about our vision services and expanded facility.
Learn More
Our Reviews
I've been to Dr. Rigneys twice now and highly recommend him. I get right in and right out, everything runs on time, and he still schedules e...
Excellent experience. Dr. Rigney took the time to understand what I needed help with and provided all the information I needed to best care ...
I have always had poor vision and had made peace with the idea that my vision would never be very good, even with glasses. I saw Dr. Rigney ...
Excelente service, doctor Rigney is full of knowledge and explain very well all the test he do . Also is one of the few places that have all...
Thorough doctor was very compassionate made time even for a new patient by far one of the best doctors I've ever been to
Dr. Jay Rigney
Dr. Jay Rigney is a board-certified Optometrist that founded his private practice in 1984, serving the Owasso, OK community for over 30 years with quality, specialized eye care. Dr. Rigney has the skills and certifications necessary to address all of his patients' vision needs, and offers a wide variety of treatments to safely treat various eye conditions and infections. Dr. Rigney is also certified to treat glaucoma, as well as perform minor corneal procedures

Dr. Rigney is intentional about providing all of his patients with individualized care, taking the time necessary to thoroughly understand their needs and explain their treatment options. He and his team strive to make each visit an exceptional experience for the whole family.
Learn More